There are 12877 songs, on 1223 albums by 398 different artists in the playlist. Enjoy!
Saviour Music
Albums on artist pages are now sorted from Most Recently added (top) to Oldest (bottom).

You can request songs by clicking on any album title. :-) HAVE FUN :-)
Albums by Saviour Music in our playlist: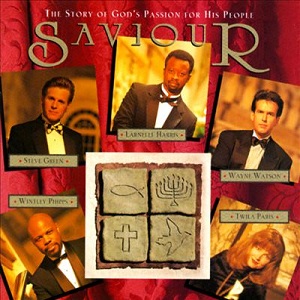 "This work," says producer Greg Nelson, "is about God's passion for His people." Nelson's own passion is evident as he talks about Saviour, the contemporary oratorio he and cocreator/producer Bob Farrell brought through three years of painstaking development. A stunning one-hour long work that fuses classical patterns with contemporary forms, and features some of christian music's finest voices, Saviour's clearly something special.
"People ask me how strongly I feel about this project," he says, "and I'll tell you honestly: If, God forbid, something were to happen and this is the last thing I ever did, I would be very content with my life and my work."
Those are, of course, strong words, especially for a man of Nelson's renown, someone whose production credits include Sandi Patty, Steve Green, Larnelle Harris, Wayne Watson, and Handel's New Young Messiah. Green, Watson, and Harris, in fact, are three of the featured vocalists in the CD release of the project., along, with Twila Paris and Wintley Phipps. Backed by a choir, a symphony orchestra, and contemporary electronics, they are part of a musical fusion of the best of both worlds. "It's been a good marriage of classical and pop," says Farrell, "of orchestral instruments and a 90's approach to drum tracks and keyboards, and then all these wonderful vocals. We tried to be very fresh, and yet not so pop that we forgot what is was we were trying to say, and the classical approach and production style underlying it.
The story, which takes us from creation through resurrection, is a picture of God pursuing His people.
The passion - God's and the project's participants - is evident from the outset. The duet between God and Adam is full of ardor, of mutual love and caring emotions that permeate the work. Songs detail the Fall, the journey to the Promised Land, the desire for a Saviour, the Cross and Resurrection, with an ever-present knowledge of human weakness. "It's a kind of snapshot look at the process whereby God provides, man messes it up and trashes it, and God comes and rescues him", says Farrell, "...it happens over and over, and it's still happening down to today." The work began in 1993 as a cantata, and underwent a long metamorphosis. At one point Norman Miller, who produced the Young Messiah tour, heard it, liked it, and encouraged Nelson and Farrell to make it a longer work.
"I think it's time in our marketplace to do something that isn't status quo", says Nelson. "This work, for me, is unabashedly about God, but in a way people who don't understand anything about it can relate to. There's not a lot of Christian-ese here. There is a lot of Scripture, and there's no reason people won't listen to it, if it's in a medium they can relate to."
For Farrell, Saviour has been as rewarding as it was unexpected. "It's been a very fulfilling thing to be a part of, and not something I would ever have envisioned,' he says. "I am someone who has written a lot of pop and rock n roll, and worked on song for Eric Clapton to Amy Grant, and a lot of stuff in between, and this is something that has touched a part of me nothing I've ever written ever has, and in that way, it's a once-in-a-lifetime thing, and I'm pleased and proud to a part of it."