There are 12877 songs, on 1223 albums by 398 different artists in the playlist. Enjoy!
Steve & Maria Gardner
Albums on artist pages are now sorted from Most Recently added (top) to Oldest (bottom).

You can request songs by clicking on any album title. :-) HAVE FUN :-)
Albums by Steve & Maria Gardner in our playlist: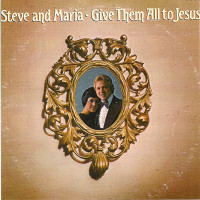 Warmth, sincerity, humor and depth of content characterize Steve & Maria's concerts. Their sixteen albums have been heard on more than 500 radio stations around the world, with a few of their songs reaching top-ten status in some areas. Over a thousand TV appearances on many Christian broadcasts began during their student years at Wheaton College when they were soloists on "Day of Discovery."
Widely traveled, they have performed in the former Soviet Union, Africa, Europe, the Middle East, Asia, North and South America. From large Billy Graham Evangelistic Association crusades to intimate groups on Christian cruises, their original compositions blend entertainment, worship, conviction and commitment.
Steve and Maria address numerous issues confronting families today. Although their concerts focus on music, they also share with their audiences, in a fresh and transparent way, the challenges of living their Christian commitment in a post-Christian culture. Steve's 12-string guitar and original soundtracks from their albums combine to make a musical experience that will touch your heart.
Living in Fort Wayne, IN, Steve writes for Crown Financial Ministries in Gainesville, GA. He also hosts "Three Guys and a Book," a monthly radio program on the WBCL network.
Maria is on the staff of WBCL in Fort Wayne as Artist in Residence and one of the hosts of the Mid-morning program. She represents the station as she speaks for women's groups throughout the three-state listening area. Together, Steve and Maria host the monthly radio program titled "Marriage Matters."
Maria's hobbies include auctions and estate sales and collecting copies of Dickens's A Christmas Carol. Steve loves tennis, golf, skiing, scuba and flying. All of these hobbies, however, have taken a back seat to their two grandchildren, Logan and Maria, born to their daughter Mandy and her husband, Brett Fish, a United States Air Force pilot living in Wichita, KS.