There are 12195 songs, on 1127 albums by 395 different artists in the playlist. Enjoy!
Scott Wesley Brown
Albums on artist pages are now sorted from Most Recently added (top) to Oldest (bottom).

You can request songs by clicking on any album title. :-) HAVE FUN :-)
Albums by Scott Wesley Brown in our playlist: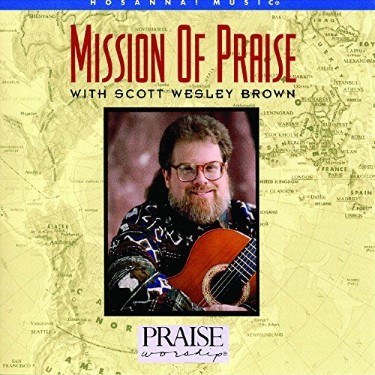 Released:
1995
Scott Wesley Brown (born June 4, 1952 in Philadelphia, Pennsylvania) is an American CCM singer and songwriter. Scott recorded for Sparrow Records for much of his career, recording more than 20 albums. His songs have been covered by Petra, Pat Boone, Bruce Carroll, Sandi Patty, Amy Grant, and others. Brown has also worked with organizations such as Promise Keepers and Campus Crusade for Christ, and was a pastor in San Diego.
He toured extensively internationally. Before recording songs and touring with dozens of artists, he met a young, unfamiliar artist, Steve Camp, fresh out of high school, who would also sing backup while playing acoustic guitar with Brown on "I'm Not Religious, I Love the Lord", just the year before going on his own, where he had a successful solo career. The two would tour together occasionally over the next thirty-five years.
Scott Wesley Brown has worked closely with the US. Center for World Mission, ACMC (Advancing Churches in Missions Commitment) and teaches many worship and mission seminars in addition to maintaining an active concert schedule.
In the early part of this decade Brown teamed up with Billy Smiley of the popular Christian rock band Whiteheart to produce a series of albums of contemporary hymn arrangements. Hymns, The Old Made New was released in 2006 and Songs from the Valley is expected in late 2010.
Scott's first attraction to music was his grandmother's piano. It was one of those old Sunday guitar_in_airschool uprights and barely in tune. But to him it was the door that opened up into a world of endless possibilities, especially for a three year old.
He received his first guitar for his seventh birthday and despite the fact that he had no idea of how to tune it, he spent hours making up songs. But the real epiphany came in sixth grade.
Scott was failing English grammar and his teacher was concerned that he just couldn't catch on. But when they started studying poetry, Scott found success when he wrote his first poem and the teacher decided to read it in front of the class. For the rest of the year, Scott would write a new poem every day and the writing skills began to flow with the help of his teacher.
By the end of his sixth grade year, Scott began adding music to those poems and his music career began. Little did he know that as an adult he would end up in LA and Nashville recording songs he'd written.
For Scott, being a part of the early days of contemporary Christian music or "Jesus Music" was "as exciting as blazing the new frontiers of the wild west!" This was radical music for its time and just to see a drum set in a church sanctuary was a marvel unto itself.
Times have certainly changed since the days when Larry Norman cried out, "Why Should The Devil Have All The Good Music?" Hundreds and hundreds of music and worship CDs by so many talented Christian musicians have proven that the music of the Kingdom marches on with each generation as they express their adoration of our Redeemer.
Scott says, "My songs are all a part of my journey. I once said that they are my confessions. They are also my profession: a profession of faith in the excellency of God! To declare the supremacy of Christ through music, worship and mission is the heart of all I do and all I sing."