There are 11219 songs, on 1061 albums by 383 different artists in the playlist. Enjoy!
The Clark Sisters
Albums on artist pages are now sorted from Most Recently added (top) to Oldest (bottom).

You can request songs by clicking on any album title. :-) HAVE FUN :-)
Albums by The Clark Sisters in our playlist: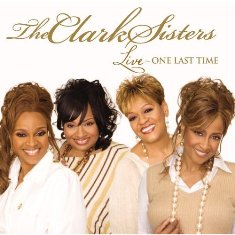 The Clark Sisters are an American gospel vocal group consisting of four sisters: Jacky Clark Chisholm, Elbernita "Twinkie" Clark-Terrell, Dorinda Clark-Cole, and Karen Clark Sheard. A fifth sister, Denise Clark Bradford, no longer performs with the group. The Clark Sisters are the daughters of legendary gospel musician and choral director Dr. Mattie Moss Clark. They are credited for helping to bring gospel music to the mainstream and are considered as pioneers of contemporary gospel. Their biggest crossover hits include: "Is My Living in Vain?" "Hallelujah," "He Gave Me Nothing to Lose," "Endow Me," their hit song "Jesus Is A Love Song," "Pure Gold," "Expect a Miracle," and their largest mainstream crossover gold certified, "You Brought the Sunshine." The Clark Sisters have won two Grammy Awards. With 16 albums to their credit and millions in sales, the Clark Sisters are the highest-selling female gospel group in history.
The Clark Sisters are renowned for their unique vocal stylings, dubbed as The Clark Sound.; each with distinctive sound that they contribute.
History
The early years
The Clark Sisters were born and raised in Detroit, Michigan. They each began singing at an early age, and by the late 1960s they were all performing together in church services, usually singing songs written and arranged by their mother. A few years later, Dr. Mattie Moss Clark turned over control of the group to Twinkie, who would then go on to write, arrange, conduct, and produce all of the Clark Sisters' recordings. In 1973, the sisters recorded their first album, Jesus Has A Lot To Give, on their uncle's local label Billesse Records.
The following year, Dr. Mattie Moss Clark Presents The Clark Sisters was released and people around Detroit began to take notice of the group. The Clark Sisters signed to Sound of Gospel Records in 1974. Under this association, the group released albums such as Unworthy, Count It All Joy, and He Gave Me Nothing to Lose. It was not until the early 1980s that The Clark Sisters began to become more widely known. Their popularity soared with the release of the live recording Is My Living In Vain. The first live recording by The Clark Sisters spent an entire year at number one on Billboard's Gospel Music chart. Opening with the bluesy title track, each sister vocally declares that their dedication to Christ is not a useless effort. The innovative "Hi ya" was funky enough to find its way into a Tonex produced track over two decades later. Karen Clark's lead on "Speak Lord" expresses deep faith while the call to worship is raised on "Now Is The Time". Another hit from this release, "Expect Your Miracle", is still a staple in black churches across the country.
Their next release You Brought the Sunshine would prove to be a monster hit via the title track. Reminiscent of Stevie Wonder's "Master Blaster (Jammin')," the song became a hit in church houses and on dance floors, including New York's Studio 54. "Sunshine" was picked up from its original independent gospel record label Sounds of Gospel and distributed by both Westbound Records and Elektra Records. In 1983, the song peaked at #16 on the Black Singles chart, #27 on the Club Play Charts, and #80 on the Hot R&B Charts driving the album to Gold sales. This album continues to display Twinkie's signature blend of scripture with unprecedented vocal and musical arrangements on biblically based songs like "Psalms 31." The album's other songs include the sincere prayer found within the lyrics of both "Center of Thy Will" and "Endow Me," featuring a young but already vocally mature Karen, as well as "Overdose of the Holy Ghost", showcasing Dorinda's vocal dexterity. The disco-inspired "He Keeps Me Company" is noted for its bubbly syncopation.
The sisters delivered another progressive effort in 1982, Sincerely, which included "Name It And Claim It" and the politically charged "World." Though its success was overshadowed by the previous hit "You Brought The Sunshine", the album received a Grammy nomination.