About Us...
Written by: GODpleasers
Who we are...
WE LOVE THE LORD! You can have life too...

Welcome to GOD Speaks internet radio...
A article in CCM Magazine (June 2012) stated that "the CCM industry is seeing a resurgence of its early artists." Listeners are clamoring to hear the songs of their youth. Radio stations are constantly playing what is new, edging out the "older" artists. But listeners still want to hear songs outside the current top 40.
That's where GOD Speaks internet radio comes in. With a span of 4 decades (70s to the current), you will be able to request & enjoy listening to some of the artists you have been missing.
GOD Speaks plays primarily Praise/Worship music with some classical and mixes short audio teachings with a wide range of styles of Christian music from 70's, 80's, 90's, and beyond. All listeners enjoy a free premium 128kbps stereo MP3 live stream. Registered members get to enjoy Live song requests, help add lyrics to songs, rate songs, leave comments on songs, dedications, and a growing searchable play list of over 12,000 songs can be found at this website. Registration is always free. The Gospel is free. We will never charge anybody to hear the GOOD NEWS of Jesus Christ.
We are on the air website 24/7 days a week.
We are legally licensed & all royalties paid through Live365 and can be found and tuned in to via their station directory as well as other internet radio directories on theb web, but specifically by typing "GOD speaks" in the search box on live365. You can also tune in on this website as well as with Winamp, Windows Media Player, Real Player, QuickTime & iTunes.
The Personal Touch:
GOD Speaks is run by people, not a machine. When you listen, you're hearing hand-picked music that will help you discover GOD'S glory & get closer to Jesus at the same time & reunite with HIM there.
Mission's Statement:
God's support in us through the Internet Radio Station provides listener awareness of God's Presence; acquainting them fundamentally through The Gospel music genre , all styles of Christian music , with His love.
Donating:
With God's help in us, we are donating to our radio station needs. Please give financially to help us there.
GOD Speaks internet radio is commercial free and open to anyone who wants to listen. May God bless you with provision abundantly for donating to us now. Apostle Paul states in Philippians 4:17, " not that I seek the gift, but I seek the fruit that abounds to your account".
Please join us & support us financially so we can keep this tradition alive by making a contribution today Check or money order to GOD Speaks internet radio, PO box 5293, Wenatchee, Washington . 98807 U.S.A.. Abundant Blessings to you by seed faith giving to this ministry.
a little backround..
Written by: GODpleasers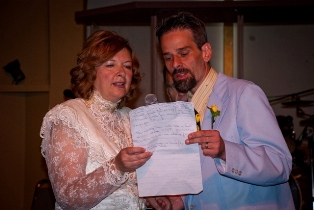 Hi, we are Kevin & Bonnie Spencer (founders/owners) of the HOLY-Spirit inspired GOD Speaks internet radio.
Kevin was born in Wenatchee, Wa. & Bonnie in Spokane Wa. We were married on June 26th 2010 and currently reside in Wenatchee. We both love Jesus and His praise and worship music as well as other types of Christian music.
We've always had a love to share the Gospel with people and discovered at the time that his music was a great way to do this. After researching other ways, we discovered SAM broadcaster as a viable tool for broadcasting the love of Jesus to the world.
Station History...
GOD Speaks Radio began broadcasting from our living room at approximately 2010 through mixpod.com (now closed) as an embedded player; with a playlist of about 200 songs from our music collection. When mixpod shut down. In november of 2011 we discovered & started using SAM broadcaster as a perfect way to get the gospel out.
In October of 2013, the Lord led us to make GOD Speaks more interactive & faster; with that change He led us to register a new domain for it.
Although, there is sometimes a kind of low listener base. At times no listener base at all, we will continue to build this music library and advertise wherever we can on what little bit of a budget we have. If you like us we do what we can to get the word out but this is up to you to decide so please tell your friends & encourage them to listen to. GOD Speaks Radio is 100% listener-supported.
It's important to note that our playlist is personally tailored for a broad spectrum of listeners. We keep it on daily in our home and we prayerfully select the music that can be heard on it together. Unless we are personally edified we do not include the music in our playlist.
As of 2013, the station library continued to grow and we celebrate 4 years of broadcasting. We grew from 200 tracks to now a whopping over 6000 songs (as of January 2015) from praise/worship, Christian rock, some classical and a little bit of every kind of Christian music from 70's to now. GOD Speaks continues to broadcast every day, and even though we could financially support this project on our own, the Bible says if you sow seed in good ground, you will be rewarded. Remember the Word of God also says to Go into all the world, preaching the Gospel to everyone everywhere. God's music declares the Gospel and with your help we can take it even farther…...like taking care of the homeless. Thank you Jesus. :-)
Meet Kevin Spencer...
Written by: GODpleasers
I'm very thankful to the Holy Spirit for my beautiful and Loving Wife Bonnie & look forward to our life together and loving others with her. I pray that the Holy spirit overflows in us as a team and we win lots of hearts to the Lord. Thank you Jesus for my beautifull wife my awesome reward.
I was raised in an alcoholic environment. I'm from Wenatchee & ended up in Bellingham 1 week before my 2lst birthday. Back then I was going to Hillcrest Chapel where I met a brother- in- Christ who, (even with my low self-esteem) kept on showing me Christ's love.
I've always had a problem with getting close to people and through my ups and downs would push people away that cared; but he kept on showing God's love to me –always being there. We got into the Praise & Worship music and through a song, the name "Soldiers of the Light" got my attention. Shortly after that, I was reading God's Word and the scriptures to back the name up stood out. I then got baptized & started handing out tracts. That friend & I ran into each other the same night, doing the same thing & we did not plan this. This was confirmation that I was being called to Street Evangelism.
I did that for 2 years & about 27 years of age ended up back sliding & drinking on the weekends. I would go into the bars to evangelize & my friend told me I shouldn't because bars weren't of God. He rebuked me & told me that if I kept going into bars he was going to disown me. That hurt me & I gave up on God & started thinking mistakenly that the world was more fun than Christianity.
Over time the Holy Spirit has shown me differently; I don't think that any more. I went with the world instead of God. Over time I met a lot of alcoholic friends & started drinking, partying in my apartment with them every day. That habit progressed and snuck up on me & eventually I was drinking 24/7.
I got evicted from a 9 year stay of my apartment over it. I lived almost 4 mo's. homeless, drinking and getting motel rooms on weekends. One morning I woke up with a big hangover & the Holy Spirit led me to the Greyhound Bus station. I bought a ticket to Wenatchee and came back home after being away 17 yrs. I then lived at Hospitality House here in Wenatchee. A couple Christian brothers there saw some good in me & led me back to the Lord. They recommended me for clothing mgr. where I lived and worked. While there, The Holy Spirit put in my heart to reunite with my family. My dad whom I had never met before came to Wenatchee and I met him for the very first time in my life. It was a rare visit to Wenatchee. This was confirmation I was supposed to be around my family.
About 6 months later, thinking I was ready, I moved into my own apartment despite the warnings that I wasn't sober long enough; I took a tumble into my old ways. Because of my beautiful wife's Pastor's (at the time) advice, I went to a 6 mo. Christian treatment-disciple program and eventually graduated from there. I moved back to Wenatchee to the Hospitality House again clean and sober.
I'm not perfect but I have overcome the drinking; thanks to being covered in the Blood of Jesus I have never been homeless since. When I step out in Faith things always work out for the Glory of God. Thank You Jesus.
We plan on putting the time the Lord has given us on this internet radio station. I have 5 years of web design experience; always open to learning more. I give glory to God for this gift and I'm not going to let it waste. (Joshua 24:15)

Nowadays we are out looking for every opportunity to serve the Lord & preach the Word of God. So my prayers are that in the future we can care for the Homeless & Down trodden daily & that the Holy Spirit will touch Hearts of the homeless & the different visions the Lord has in store for our future will lead many to the Lord. (Jeremiah 29:11)
My beautiful wife and I are rewarded daily with all our needs met. He gives us everything according to His riches in glory (Philippians 4:19) and His rewards are many more for you too. All you have to do is ask the Lord Jesus for help, giving your life to Him and confessing Him as Lord and He will bless you too. Thank you Jesus.
Abundant Blessings on you!
In Jesus Name,
Kevin Spencer
Meet Bonnie Spencer
Written by: GODpleasers
When I was 4 , Mom led me to the Lord. I was a follower of Jesus but it wasn't until I became desperate for Him did He begin to reveal Himself to me and became real to me. That's when He began to show me step by step how to live and obey Him. However, I am still trusting Him to help me obey Him and how to belong to Him.
God has used me mainly by giving my testimony & telling people what He has done for me. He has healed me of Schizophrenia – I tested normal in all tests and He healed me of degenerative disc disease. He made the discs in my spine grow back and the chiropractors say that doesn't happen naturally.
I had the privilege of meeting priceless Kevin in church. He was living at the Hospitality House and I had not yet moved to the Haven of Hope. I lived at the Haven 3 years and 4 months. Now that Kevin and I are living in my own wonderful and beautiful apartment the Lord and Kevin have given me.
Kevin and I have known each other since October of 2006 and I had the High honor of becoming his wife June 26th 2010.
We have since volunteered at a Wenatchee day shelter, The PowerHouse Ministry Center and have held Discipleship classes there. Now the Soldiers of the Light Ministries tells the Gospel through God Speaks Internet Radio station.
Wonderful Life!,
Jesus Christ My Lord,
Bonnie Spencer